It's been over a year since I've done an
interview
and felt it was time to start them up again. They seem to be fun for everyone involved.
Adam Swan
aka Grippo of
Truckasauras
was gracious enough to talk to me about their new album "Quarters" coming out in September.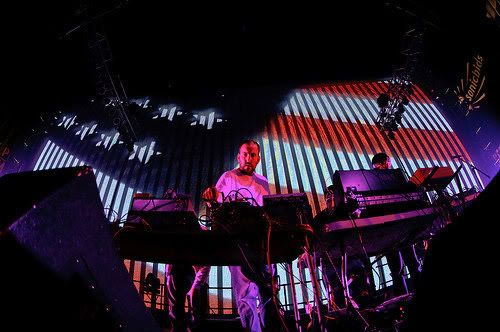 TR: How long you guys work on the new album?
AS: Took forever. Way too long, but we've been playing alot of it live, so Seattle has heard it. We really jumped in and finished in early in 2010.
TR: How many quarters are in your pocket?
AS: Ha! Probably none.. Oh wait, there's 3.
TR: Do you think there is a good balance between the visuals & beats that Truck displays?
AS: From the get electro acts are boring to watch. We're hunched over gear and its not that exciting. We consider the video as our frontman. I catch myself watching them a lot of the time. We wanted Dan to be apart of it with Ryan's idea of Americana. What Dan does, really fits in with our sense of humor and the crowd seems to enjoy it.
TR: Thinking of remaking the Star Spangled Banner?
AS: No, we remixed Auld Lang Syne for New Year's once. We are making fun of and embracing America, and to be able to make fun of something you have to become it. Our bigger shows we break out the flags and whatnot, but after Obama became president it made it harder to make fun of. George Bush made our life a lot easier.
TR: What was your favorite collaboration from "The Truck" show?

AS: I liked the Spaceman/SK beat a lot and the energy they brought. Canary Sing really went out and they can actually sing, I have so much respect for that. Up until soundcheck i wasn't sure it the night was going to work, but then I felt confident. The whole night was a huge huge undertaking.
TR: Worst collaboration?
AS: Mash Hall.
TR: Are you considered hip hop?
AS: Always have been a little bit, one thing about us you cant lump us into a genre. We've been called the future of techno, but we don't think we are even techno. We have an 808 not a 909. Rappers always hit us up for beats.
TR: Was Head Like An Espresso Truck
better?
AS: This one more cause it was my birthday, but there were more people at the Espresso Truck. I can't believe we were able to pull either of them off. It says a lot about our music scene thats for sure.
TR: What does Out For Stardom mean to you?
AS: Your hustle, your grind without mincing any words. We are going to keep doing it until we are famous or dead. When you first start making music you think you are going to be famous, yet all of us still work day jobs.
TR: Like FourthCity?
AS: Whether you call it Fourthcity or OFS, it's the same idea. You work with like minded individuals and support each other. You guys have haters, but you don't cater to them. But, as long as you have haters it's good cause you are still moving people. It adds legitimacy. Once you get to a certain point in seattle you get to know everybody. Same parties. That's the beauty of it, everyone is a big family. People are doing their thing, even if you hate it. If they are grinding you can't hate on that grind.
TR: Top 3 bands in Seattle?
AS: Past Lives, Shabazz Palaces, & Flexions. Eventhough my brother is in it, I'll be biased.
TR: Who don't you like?

AS: In Seattle? I don't know.. I probably don't even know what it is. If I dont like something it's probably something that didn't even catch my eye.

TR: Who's ass do you want to kick?
AS: There's just too many. But because of yesterday, the mail carrier that threatened to mace my dog through the front door. That pissed me off!
TR: Who is the future of techno?
AS: Probably Richie Hawtin, I don't know. I don't know, I don't listen to techno. I listen to hip hop.
TR: Favorite pro wrestler?
AS: Randy Macho Man Savage cause of the Slim Jim commercials.
TR: Not because of the rap cd?
AS: The rap cd is incredibly horrible, so bad it's good. It has a beef cut and a dead homie cut, which is essential to a rap album, right? I love thinking about the producers and engineers behind it BEcause they must only be thinking about a paycheck while keeping a straight face.
TR: Who gets the most pussy in Truckasauras?
AS: The married guy, Ryan.
TR: Favorite sandwich?
AS: French Dip with au jus.
TR: Better Segal? Dave or Beanie Sigel?
AS: Dave Segal cause I'm a music nerd and he is the biggest music nerd I know.
TR: Better Freeway? Freeway or I-5?
AS: Freeway.
TR: You good at video games?
AS: I'm not at all, but I get to watch people have some good Skate 3 battles.

TR: Favorite piece of equipment?
AS: My favorite synth is the 303, and my favorite piece of gear in studio is my tape deck.

TR: When was Truckasauras' last tea party?

AS: I don't think we've had one. Last time I drank tea was when I got home from hiking. Tea parties sound dirty.

TR: What kind of truck would you be?
AS: Toyota 4x4 cause I owned one and it was the shit.

TR: What's up with a Mad Rad/Truckasauras show?

AS: Well what's up with one??!? Are you guys playing any? We are booked through October, but we are down.
TR: How was your burger?

AS: Was really good, spicy. Lets yelp this! It was really good, I would eat at Elysian again. I think I need another beer and a shot.

Thank you for your time, Adam. Congrats on the new record, can't wait to bump that shit.