I am constantly told that I'm the absolute worst person in the world to dine out with. There's always something for me to complain about, whether it be the food, the service, or the person next to me. I'm no critic. I'm just right. After talking with
Trent
, he felt I should take my cynicism to the blog and start writing restaurant reviews. So, as Mr. Onions, I will be venturing out to various Seattle eating establishments and reporting back. These restaurants better have their shit together because I'm going to make someone cry.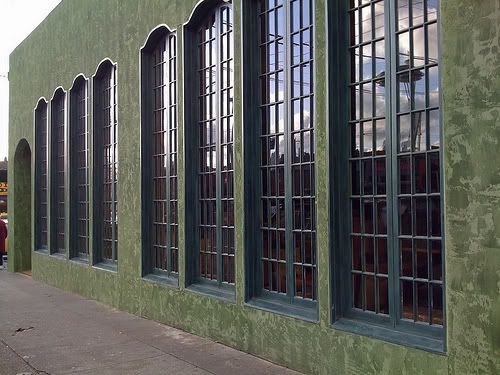 First stop:
Toulouse Petit
. I was, as always, very much excited to get lunch with my lady there. We usually try to make it before the breakfast happy hour ends, but on this day we decided to sleep in. We arrived around 2:30pm to an almost empty restaurant. I can't believe there was an actual host needed to seat us. I ask for a booth. A request that causes this poor, miserable host to roll her eyes. This place has like 30 booths. I can't sit in one??! What the fuck?? I know you're busy, with this huge line of imaginary people waiting at the door for a table. I'm sorry to take you away from reshuffling unused menus, looking out the window twisting your stringy hair, and thinking of where to put your damn "Q" on Words With Friends. But you know what? I want this big comfy golden velvet booth, and I'm taking it. Put your fucking "Q" on Quat, bitch.
We sit, and nothing about the place screams New Orleans meets the French Quarter. There's two overly vibrant televisions playing SportsCenter on loop and Marcy Playground's
Sex and Candy
blares
through the overly trebled speakers. The golden wallpaper sparkles, reflecting the sun, and the light fixtures are reminiscent of Tim Burton's
Beetlejuice
. The bartender is "freshly squeezing" orange juice as she pours it from the gallon that it came in. Authentic right there. The decor bothers me. Can I get some French doors or maybe a chandelier? Perhaps a fucking fleur-de-lis?!? They tried really hard, but had no fucking idea what the hell they were doing. That, and I'm fucking starving.
Finally! Water! I'm sure glad her whipping boy busser was here to fill it four times because I know she's terribly busy right now with her combined two tables. She needs to be in the back with a wad of scotch tape wrapped around her hand getting all of that cat hair off of her red ragtag v-neck sweater. I can't stand dealing with this "B" team. Can't I just deal with the busboy? At least this guy is here to actually do something for me.
I've never been let down by the food at Toulouse Petit. For our edible selections, we start with their Fried Chicken Gumbo. Holy lord, it's some good shit. Huge succulent slices of spicy sausage, delicate chunks of fried chicken, onions, potatoes, and everything but the kitchen sink thrown into this little bowl of mine. Goddamn this is so good! I can only let my lady take one bite. Definitely not two.
After that quick demolishing of liquid aperitif our server resets our table with a steak knife and a bottle of ketchup. A bottle that is almost empty and covered in gross dried up bits of ketchup. Looks like someone forgot to do their side work today, and I'm the one that has to suffer. There's only one other table in here and you give me a disgusting dirty bottle of ketchup? Did you notice how filthy it was? Don't worry, the 4pm night crew will be here soon, and you can hurry off to your mangy-ass apartment with your boyfriend to watch the new episode of
House
followed by
Dancing With The Stars
or whatever goddamn shitty television programming you are Tivoing right now. Shit, just pull a seat up at the bar.
Watch TV
. I'm sure they won't mind changing the channel for you.
Next, is the meatloaf sandwich. I missed
Thomas Gray's
amazing meatloaf night earlier in the week. Something was still inside of me yearning for the loaf that is of meat. I take my first bite… and it's tasty. The red peppers resonated on my palate and embraced all that is cow on bread. The sandwich was lukewarm though, at best. The server said, "Yeah, it's supposed to be served at room temperature." Room temperature meat loaf?!? What?! Who in the world serves room temperature meatloaf?!?!? This gal is trying to sell me on it because she's lazy and was too busy sexting with her significant other. Isn't that in the food danger zone? I don't know what your mother told you but you should never serve meatloaf cold. That's fucking retarded. Your mother is probably just as mangy as your apartment. I ate half of my cold sandwich and asked for a box. I later reheated it to 165 degrees fahrenheit, the way it should have been in the first place.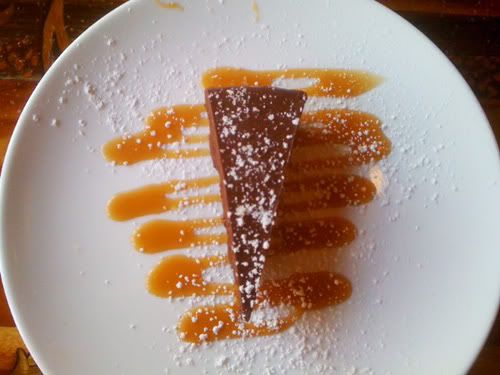 Our chocolate torte arrived to much fanfare by myself and my lady. It was sooooo rich and chocolaty, and oh so soft and caramelly. Damn, this was some quality dessert. The little hints of sea salt floated on my tongue like a bee pollinating a flower. It was the perfect combination of PH balance, and my mouth was applauding me. As we were finishing up, our server returned and put our check on the table. She didn't bother cleaning off the dirty plates, sauce filled ramekins, and crumbled up napkins. Can you actually be this shitty of a waitress?! You're pushing me out of the door and you don't even bother to pre bus my table?! It really pisses me off when I get a check at a dirty table. Don't worry, I'll pay right away and get out of here so you and little miss hostess can tag photos of each other on mobile Facebook. I get it. You two went to a Sounders game with your
stupid
Xbox-green scarves, drank a few pale ales, and you must remind every one of your friends how consistently lame you are.
Thanks, Toulouse. You are delicious, but I'll remember to come back when your all-stars are working.
Mr. Onions Rating (on a 1-10 scale):
Food: 8 Service: 3 Atmosphere: 4
Overall Experience: 5