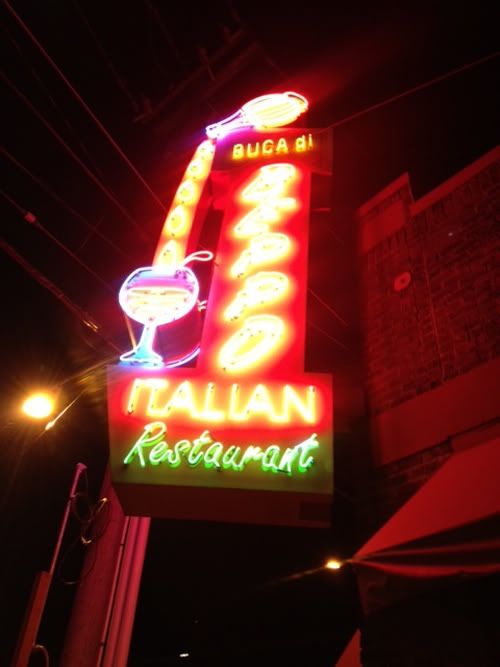 I truly enjoy birthday parties. It's a chance for someone to be the most important person for a night with all of their closest loved ones. Some choose to throw a big party in their honor, others like to keep it low key, and a few just want to go out to a nice dinner celebrating their big day with their favorite people. I was fortunate enough to celebrate
Blair's
birthday last week with a large group. Finding a restaurant last minute on a Saturday night that could hoard this large of a party is a task in itself, but we eventually found one that could accommodate us. We felt we couldn't be too selective about where or when we would eat, and ended up with a reservation for 20 at the good ol'
Buca Di Beppo
.I've done some language research and I've found numerous translations for this over the top Italian eatery. Specifically interpreted as the Hole Of Beppo, keeping traditional namesake with Guiseppe's Hole or as the employees say, Joe's Basement. Whatever the english rewording is, the word hole couldn't be more closer to the truth. This place is an absolute shit
hole
. It is sensory overload times one million. It's loud, it's bright, it is utterly obnoxious upon opening the front door. Imagine a Chuck-E-Cheese for adults without the skeeball and creepy robotic animal band. The thing is, this place doesn't need the help of Mr. Munch or Pasqually to make you completely uncomfortable. It eye fucks you immediately. You cringe, swallow your fear, and hope that a meatball the size of your head will make it all better. We had been starving ourselves for hours with dreams of eating our way out of pasta filled swimming pools. Our reservation was for 7:30 and shockingly enough our table was not ready upon arrival. Needing to loosen some stomach muscles, we stockpiled our group into the bar for an aperitif. Some were complaining about the prices of the Peroni and others were mesmerized by the 26,843 pictures of Italian memorabilia on the walls. During our 20 minutes of anticipated waiting we witnessed 3 annoying birthday songs and watched NBA basketball on the big screen. It felt nothing like Rome, but more like a TGI Fridays stuck in the middle of a Naples garage sale. Our party was supposed to be for 20 but we seemed to be missing some people. I'm pretty sure they got lost upon finding us at the bar or looking for the restrooms. I would bet there are probably a handful of my friends still wandering around looking for a way out.
Our meal started with a truly Italian staple, bruschetta. Giant piles of diced tomatoes were falling all over the place as extra crunchy Texas Toast bread rounds tried to keep them at bay. I've never had bruschetta before that was literally just tomatoes and bread. The bread carved into the roof of my mouth with each bite, it was like chewing on rocks. I loaded up on salt and pepper yet none of this still had any flavor. It was as bland as the holy eucharist and we weren't even sitting in the famous
Pope Room
. Calamari soon joined in on this share affair and started to make things worse. It was basically a heaping of fried breading shaped into rings. I kept adding marinara to each bite to avoid the tiny chunks of burnt grease. The flavor and texture was reminiscent of a school eraser. Not the big white square one, but the pink angled topper that you would put on your Dixon Ticonderoga No. 2 after the original eraser had worn out its welcome. This was grossing me out and my fork was missing.
Luckily for all of us, Buca has their own house wine served in oversized gallon bottles. Drink your heart out, Carlo Rossi. The drinking needed to continue and it needed to continue heavily. If I'm going to eat such shitty dog food, I'm at least going to be drunk as hell so I have a slight chance of enjoying it. The meal limped on with a dying caesar salad served in an actual bathtub. The romaine was wilted and the iceberg was lifeless. They were mashed and mixed together probably over a week ago. The dressing had settled in like soup and even the birds wouldn't eat the croutons. They had the same affect as the bruschetta bread as it cut their way through your gums and into your stomach. At least the little hints of blood dripping from the inside of my mouth added some gusto to an otherwise meaningless meal.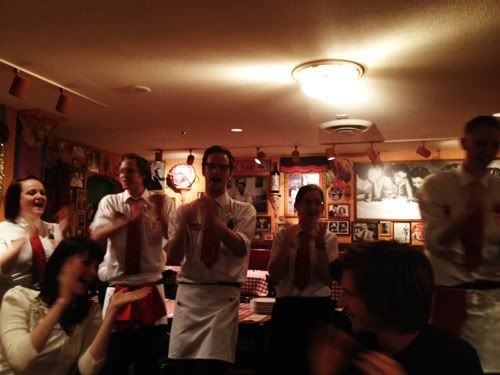 As the entrees arrived, I noticed that my second fork was missing. I'm pretty sure that one of my 5 servers took it away with the appetizers. I can't be too sure which one it was because they are all dressed in white on white outfits and they each carry exactly 9 straws and 12 pens. Why are there five servers anyway? Do we really need this many people to take our orders? I was told this was family style dining but I didn't know that it also included family style
service
. Four different people then delivered our rigatoni, chicken alfredo, and saltimbocca. The rigatoni was undercooked and completely covered in red pepper flakes. My guess is the
chef
accidentally knocked over his entire supply of it into our plate and said, "Fuck it." The chicken alfredo was decent but it had way too many peas in it and it left me desiring more. My final hope was the saltimbocca. 34 dollars for 6 small pieces of chicken wrapped in prosciutto?! I swear they just cut up one chicken breast in order to deceive us that this was a big dish. We each took one small bite of the dish and passed it on to the next person. My small bite was good, really good, and I yearned for more. This was the only edible portion of my meal and I was only allowed one measly bite!? All the food here is similar to the food any ordinary college roommate might make but the downside is they don't give you bong rips at the door to make everything taste better. I downed another glass of red and struggled through my remaining al dente rigatoni.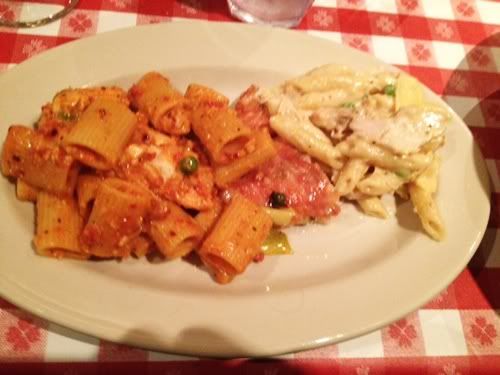 Damn, this place sucks. For the past ten minutes they have been playing Indian music! Can you at least throw on some Pavarotti or Dean Martin
singing
That's Amore
? Shit, play
The Lady and The Tramp
soundtrack
. Anything is better than what's going on in the background. This restaurant must put something in the sauce to brainwash you into coming back again and again. They make you believe quantity is better over quality and you walk out thinking you got a good deal on this much low budget pasta. I'm never coming here again. I don't care if the president himself eats here on his birthday, I'm not going. Guiseppe can kiss my ass for all I'm concerned. Where is my fork,
again
? I need to stab myself immediately.Mr. Onions Rating (on a 1-10 scale)Food: 2 Service: 3 Atmosphere: 0
Overall: 1.6