I am happy to announce that we have a new addition to Out For Stardom! Ladies and gentlemen, please welcome
DON'T TALK TO THE COPS!
to our family and imprint. It was pretty much a no brainer for us to get behind this project which embraces everything that we are about: being original, pushing boundaries, and grinding non-stop.
DtttC!
are a part of Mash Hall and there has always been a sense of family and community within, which is exactly how we operate. Over the past few years, it has been great to get to know them as not only musicians, but also as people. In the ever increasing roles of the do-it-yourself artist, they are a great addition to our roster as we look to expand and grow in the future. A lot of the best music coming out of Seattle is a member of OFS and we are going to continue to bring attention and support to those bands that we think you should be paying attention to. Go hard, party smart. Love Family, indeed.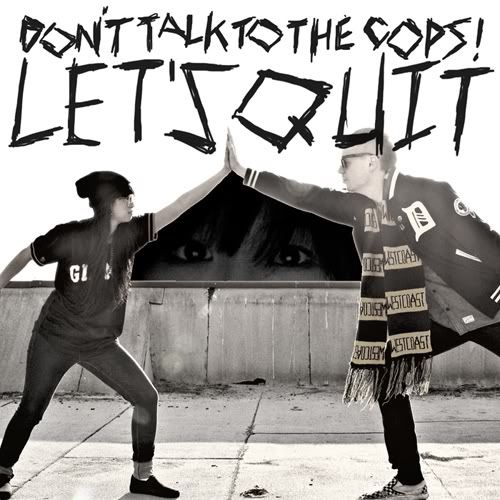 Don't Talk To The Cops! have just finished recording tracks for their 2nd album,
Let's Quit
, due out on Valentine's Day 2012. The release pairs deceptively simple lyrics, themes, and break-beats with heart-attack inducing electro-punk-hop production. Let's Quit showcases the talents of djblesOne and emecks along with guests OCnotes (Metal Chocolates), Rachel Ratner (Partman Parthorse/Butts), and Hollywood Holt (Chocolate Industries).
djblesOne
is an accomplished dj/producer whose influential productions and DJ mixes have helped shape the last decade of b-boy culture. His partner in crime,
emecks
, clocks in at only half his height but her larger than life style and pro dance moves bring outsized attitude to this dynamic duo. Their combined dance vision is abetted by hype man
El Mizell
, providing backup vocals and pops of energy to an already tight live setup.
DON'T TALK TO THE COPS! - Swag Treated Treated Swag by djblesOne
To help celebrate this glorious day, please enjoy a free download & video of the song "Swag Treated Treated Swag" off of
Let's Quit
. This song is especially meaningful to all of us because it was the theme song on the last Mad Rad/Mash Hall tour. Literally every night after leaving the venue, all 7 of us would pile into the stretched out white van, turn this on to full blast, and bang our heads straight for the entirety of the song. Most nights, it stayed on loop until we arrived at the hotel and it was an ultimate pick me up for whoever needed one. We hope it does the same for you!
Let's Quit
release show is Saturday, February 4th at
The Baltic Room
with Portland duo Purple & Green.
Lil Woody's
will be celebrating the album by adding a Don't Talk To The Cops! "Murderburger" to the menu from February 4th through February 13th.
Don't Talk To The Cops! Let's Quit will be available on iTunes and in stores on Tuesday, February 14th.
Don't Talk To The Cops!
Let's Quit
TRACKLIST 1. I Like Nerds (feat. Rachel Ratner) 2. Hey... Don't Eat Those 3. Murderburger Official Motion Picture Trailer 4. Murderburger (feat. OC Notes & Rachel Ratner) 5. I Don't Like Rachel 6. LAOS! LAOS! LAOS! LAOS! 7. Swag Treated Treated Swag 8. Tip Toe Right By Em 9. Girls Buy Me Drinks Remix (feat. Hollywood Holt) 10. Tattoo My Name 11. Someday I'm Gonna Be Rich 12. Puke Party (feat. Rachel Ratner & El Mizell)